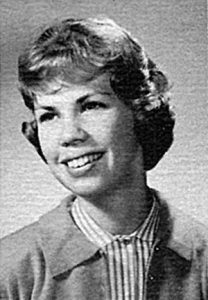 My mom, Marjorie (Margie) Hemmer, was a Summer 1961 graduate of Hollywood High School. Margie was born and raised in Los Angeles, and always cherished her memories of the city, her high school years and dear friends.
Margie went on to work at the Gas Company after graduating, but then moved in her 20's to Illinois with her mom, after her father died, as that was where her parents were originally from. She went on to make a life for herself there, and had me, her only child.
My mom and I were really close, as she was my only family. I ended up going away to college in Florida, and after retiring, she joined me. She was there for 10 years, before passing away Easter Sunday of 2015.
She and I took a trip together in 2010 to LA, which was her first trip back. I am so thankful for it now, seeing her childhood apartment on South Flores, and experiencing the city through her eyes.
I have just recently moved to the LA area, and I see her everywhere. Her many stories about her favorite places, like the Farmers Market, to cruising down Sunset, or dining at Clifton's when she'd go shopping downtown – they all make me miss her even more now that I'm here.
I would love nothing more than to get together with some of her friends and those that knew her here, to celebrate her life, and share any memories.
If anyone is in the area, and would like to join me later this year, I would love nothing more. I just want to do something special for her.
I can be reached at lauraenneian@yahoo.com or 954/309-8800. Thank you so very much.
Sincerely, Laura